Jack is six months old today! Wow, I can't believe how the time has flown. My little boy is getting so big already.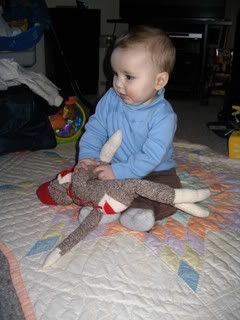 We took him in for his well baby appointment yesterday.  He weighed in at 18 lbs. 13 oz. and measured 27.25″ tall.  He has dropped from the 95/90th percentiles for weight/height for age to about the 80th percentile.  He is still a big boy, but now the gap between he and others his age isn't quite so huge.  Because Jack is taking his time gaining back the weight he lost while sick (he is still down about 1.5 lbs. from pre-RSV), we will be delaying solids since breastmilk has more calories and we'd like to give him a chance to get more of the weight back.  Perhaps we will do the solids thing at 7 months.
The NP was amazed that he had healed so well from RSV so quickly.  I think we can thank breastmilk for that!  He hasn't coughed for over a week, his breathing is totally normal, and he no longer has a runny nose.  He was totally smiley as always, and was a champ when it came to getting shots.  We were all happy that there were only two this time rather than four.  His ears had a bit of fluid in them, so the NP thinks he is either just getting over something or just starting.  We have a follow-up appointment next Friday.  Oh, and he does not have pink eye, so I can reassure the DCP on that one.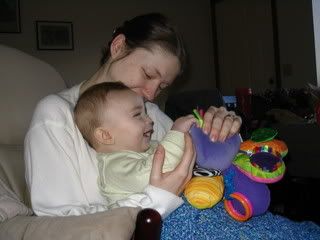 Developmentally, Jack is right on track as always.  He reaches for things, looks for things that have dropped, chats up a storm, sits up without support (until something catches his eye and he takes a dive for it – he is still figuring out what it means to fall down), can pick things up with his thumb and forefinger, rolls over both ways, stands with support of a coffee table or person, and can copy actions (i.e. mom turns the clickly star on his toy, then he turns the clicky star on the toy).  He loves peek-a-boo and itsy bitsy spider.  He is still teething but no eruptions yet – we're thinking he'll get several teeth at once.  I'm sure we'll find out soon enough.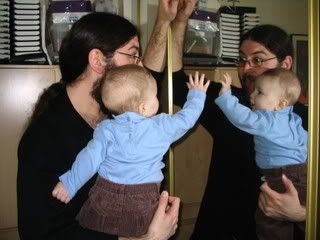 Oh yeah, and he loves the baby in the mirror.  Or maybe it's the crazy guy in the mirror – who's to say?