Today's Carnival question is "How did you meet your spouse/partner?"
Joe and I met on the internet back when it was new (to us, at least) and exciting, back when we struggled to sign online with our 14K modems on 486 computers. After realizing I couldn't actually meet celebrities like the AOL brochure promised, I began scouting for a boyfriend to replace the current loser I was with (a guy who, at the time, was in a group home and is now in prison…) so I put a message out in a chat room, "16F wants to talk to a guy who isn't a pervert." Joe (liar) sent me an instant message.
We hit it off right away: I was charmed by terms of endearment like "hon" and his respectful nature, impressed with his musical abilities and intelligence, and struck by how happy he seemed in his picture. Of course I also thought he was totally hot!
Half a country separated us since I lived in California and Joe lived in Wisconsin but this fact only slightly dampened our enthusiasm. Despite initial talks of dating other people, we quickly decided we were exclusive and spent hours every night talking/soaking each other up (we kept this up for two years, rarely missing a night). His parents accompanied him on a trip to meet me in person a mere three months after we first spoke on the internet and, from there, we began flying back-and-forth every three months. I have no idea why our parents supported our relationship against their better judgment but I am glad they did. We've been together now for over ten years. I honestly couldn't imagine my life with anyone else. Even after all of this time, and the wild changes we've gone through as we've grown up together, I still feel that Joe is the best partner for me!
Here's a photo taken at the airport during Joe's first visit: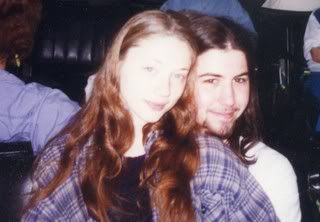 And here is our happy family today: