Jack and I have had quite the adventure together the last couple of days.  We woke up early on Friday and headed to Sacramento to attend my friend Amy's college graduation.  Joe had to work, so it was just Jackie and me.  The drive was long, and ended up even longer than usual because I missed my exit and had to backtrack.  In total the trip down took 7 hours (thank goodness Jack slept half of that), and we were an hour late to the graduation.  Luckily it was a large graduating class and we arrived with 20 minutes to spare before she walked across the stage.  So it all worked out after all.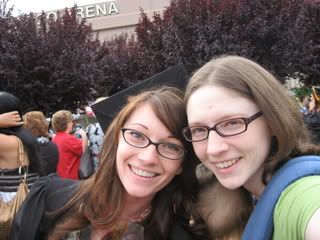 After the ceremony, Amy's friends and family gathered at her parents' house for the after-party.  I was pretty tired by that point, but we did a little mingling, a little crawling on the grass, some bubble blowing, Jack pushed down a cute little girl a year older than him and tried to eat her shoes, and he got to dip his feet in the pool (I would have taken a dip but I couldn't figure out a safe way to swim with him since we had no swim gear – in our defense, we live in a place that rarely gets over 70 degrees and the ocean is cold as hell, nevermind my hatred of being wet).  Sadly, I took no pictures.
Saturday was spent with my mom – we went out to breakfast, then Jack met Evil Incarnate my grandmother (whom he took an immediate dislike to – good boy), and then we took my mom out to lunch for her birthday.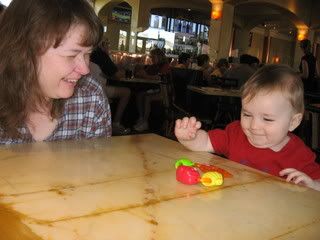 Before we headed out of town, we sat and visited with Amy again and chatted about family and friends and relationship dynamics.  It was the perfect close to the trip – a great hour of chatting and relaxation and coffee.
The trip home was decent, 6.5 hours with just a bit of a rough patch (Jack started crying 5.5 hours in and at that point we were in the middle of nowhere in the dark and I was too nervous to stop.  Next time Joe is coming with us!).  It's great to be home.