I've been on such a bad cycle for posting. Exhaustion has totally caught up with me. I've either gone to bed early or taken a nap nearly every night this week. Last night the whole family was in bed by 9, and I'm still tired.
Joe is on a work schedule that gets him home around 7 every night. Last night I got home, nursed Jack, took a trip to the grocery store for dinner supplies, rocked Jack to sleep only to have him wake up when I tried to lay him down, and then made dinner. Jack has been very clingy lately, which makes it difficult to get things done around the house. I was completely fed up with everything by the time Joe made it home! And, of course with him working nine-hour days and adding on about an hour commute round trip, he's exhausted and cranky when he finally makes it in the door.  No fun.  Hopefully we will get into some sort of routine over the next couple of weeks and things won't seem so hectic and tiring.
In other news, Joe's grandmother passed away last week and her funeral is tomorrow. We weren't able to make it to Wisconsin to attend because of the timing with Joe's work and the one week's notice.  I can't imagine what the holidays will be like without her since her home was the center of the xmas celebration for Joe's dad's side of the family.  I am thankful we got to see her at xmas and introduce her to Jack.  It's sad to think that we will not see her again but she lived a long and very full life and she got to call the shots on how she died.  In the end, she and her children said what they wanted to say to each other, and she passed surrounded by their loving presence.  There is no way to top that, really.  We will always have our fond memories!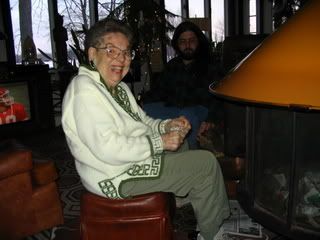 Farewell, Naomi!