Our weekend was busy busy busy. Saturday Joe worked late, so Jack and I were on our own for most of the day (the morning doesn't count because I am only half awake then, anyway). We did a little shopping, and I did a lot of baby chasing (and learned that sometimes one must use a highchair as a restraint to keep the baby in one spot for longer than 5 minutes!). Jack has been particularly difficult to put to sleep at night, so in desperation I finally packed him into the car and drove him around. At that point I had tried on and off for nearly two hours to get him to go to sleep. His eyelids would flutter but we just couldn't get there. Within 5 minutes of our drive, he was fast asleep. The rhythmic hum of the car and the darkening night calmed my frustration, as well, so it was good all around.
Yesterday also brought sleep struggles, but Joe was around to share in the joy. We went on a couple of jaunts outdoors to break up the day and had quite a bit of fun. Here's an illustration of our Sunday.
Walking in the plaza: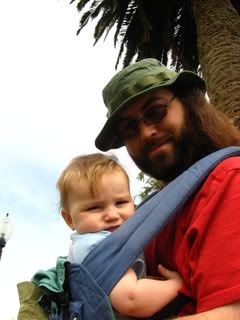 First taste of pear sorbet: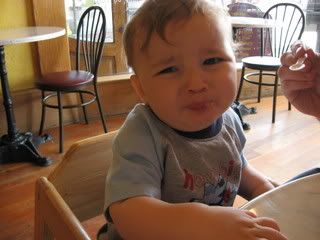 Not sure about the new "Pirate Jack" in the Box: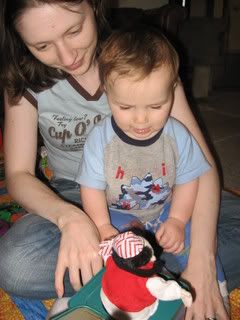 Playing with new foam letters in the bath with dad: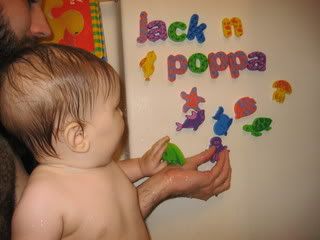 While laying and playing in bed yesterday morning, we tried to teach Jack how to "high five." Joe and I demonstrated the concept, and then encouraged Jack to give us five. Instead, Jack grabbed Joe's hand and then mine and smacked them together. Well, I guess that works!