I don't have much to say as my busy day of moving offices and welcoming a new boss to work (this is still the old work, by the way) was totally exhausting.  I was without a computer for most of the day (while this move has been in the works for about 6 weeks, of course no one is prepared on moving day), so there was no opportunity to write.
Since I haven't posted a picture of Jack in a week or so, here ya go.  I love this one; he looks so contemplative and chubby: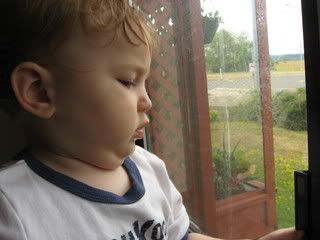 Here is the cute scrunchy face he is constantly making.  It's funny to see my own facial expressions show up on Jack – since he makes the face so often, I've got to wonder how often I do it!