This weekend Jack and I flew to Seattle to see my friend Beth.  I had some frequent flyer miles to use up by the end of the year, and tomorrow is my birthday, so I figured a trip was in order.  We had a great time, and the flight with a toddler wasn't as difficult as I feared it might be, thank goodness!  The key seemed to be getting a window seat in the "economy plus" row which offers more legroom (actually, more room for Jack to sit on the floor and play) and being blocked in by strangers.  I only had to tell Jack no once and then he would look up at our neighbors and just shake his head every time his little body would forget and start going in that direction.  It worked pretty well, and we had very nice neighbors!  Jack was quite entertained looking out the windows, too.  We had two so he spent time leaping between them to compare the views.  We only had a brief moment where Jack threw a fit, which occured when I had to coral him to board the plane.  A nice forbidden object – car keys – quickly quelled the tantrum.
I should also mention the car seat rental!  I did not reserve a seat for Jack and I did not feel like hauling a car seat with me since I was traveling without Joe, so Beth helped me locate a company that rents out baby gear.  The company delivered a Britax car seat directly to Beth's door and will pick it up, as well.  Super easy, very affordable, and definitely the way to go!
We bundled up on Friday and headed to the Woodland Park Zoo.  It was fantastic (and huge)!  Since everyone else in the city was at work or in school, we nearly had the place to ourselves.  We got our fill of all of the animals, and really enjoyed our time.  The best part was the night room, which was totally dark and contained porcupines, armadillos, sloths, giant bats, and other nocturnal animals that a person doesn't normally get to see.  Super cool!  Jack was highly entertained by all of the animals and prolifically used his new phrase of appreciation, "Bow ta dow!"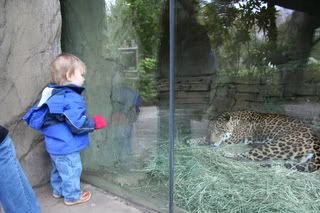 It snowed a bit during our trip but it was a very pretty dusting that didn't cause any problems.  The kind of snow I like!  Jack and I sat by the back doors and watched the snow for almost an hour on Sunday.  There are some feral cats that hang out under Beth's shed in her backyard, so Jack was quite entertained by them chasing one another and sliding on the snow-covered surfaces.
Next time I will have to be more prepared for Jack-bundling.  The fleece hat and gloves I got from Old Navy did very little to keep Jack warm, and I didn't pack his BabyLegs because I could only find one.  Additionally, sweat pants would have been a better option than jeans.  For some reason I just didn't expect it to get as cold as it did.We made it home safe and sound last night.  I lucked out and had exactly the right amount of diapers for Jack.  I feel much more confident now about traveling with a toddler, too.  That is perhaps the best birthday present of all!