We are in the dark days of the 18 month sleep regression.  OMG, it's horrible.  Example: I arrived home from work at 5:30 yesterday and Joe was just putting Jack down for a nap.  I said nothing but my mind was screaming "Noooooo!  He's going to wake up and then be up all niiiiiight!"  He woke up around 9 and then was up until 1.  Oh, and woke up at 8:30 this morning.  Oy.
Today's nap occured at 3:30 but lasted until 7:30.  I am not even going to think about when he's going to actually go to bed.
So Joe and I are walking around like zombies and TWICE now Jack has gotten by us with those damned crayons.  His artwork can now be found on the same cabinets I cleaned a few nights ago, and on the dry bar cabinet, as well (oh, he has also decorated his blocks).  We try to keep the crayons away from him when we can't color with him, but he cries "coleeeeey!" over and over.  He is obsessed.
I guess I would prefer this to the newborn days, and this does serve as a nice little reminder that I don't want to go through that again any time soon.  (That reminds me – I need to start that pack of BC pills!)
Jack is awfully cute and that helps.  Today he got into a piece of mail and was having a ton of fun playing with the outer envelope that has an address window.  He walked right up to me, stuck his hand in the envelope and then put his fingers to his mouth pretending to eat something.  "MMMMMM!" he said, and then offered me some.  I had no idea Chase sent tasty snacks in their credit card statements (or that Jack could pretend play).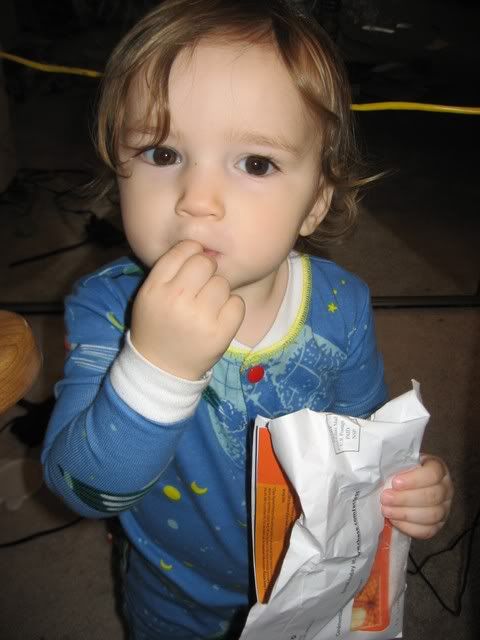 [By the way, anyone have masthead skillz?  I suck at photoshop and would love to personalize the layout a little.  Email me if you want to help a mama out.]