First off, thank you to those who responded to my last post.  I really, really appreciate your supportive comments.  I closed my eyes when I hit publish because it always freaks me out to write about such a sensitive subject but luckily your replies were all very reassuring!
Now, does anyone have any tips on getting a sick toddler to eat?  We had cut down on breastfeeding a lot in the past few months and we were at about 50/50 with solids.  Jack has refused almost everything (even standard favorites such as cheese, yogurt, toast, blueberries, and bananas) over the past few days.  He won't drink expressed milk or pedialyte, and is sparing with the water.  He had one solids meal a couple of nights ago when he seemed to be perking up but has since gone downhill.  His diet of the past few days consisted of raisins and crackers, and those in very small amounts – about 5 raisins and 3 crackers at a time.  I wouldn't worry about it so much but I have to go back to work tomorrow.  He is not likely to eat anything while I'm there.
So yeah, we're still sick.  Joe got better, I got worse, and Jack has been miserable fairly steadily.  This illness is eerily reminiscent of the RSV we dealt with a year ago.  At least Jack isn't puking everything up this time around.
Send healing vibes our way, please!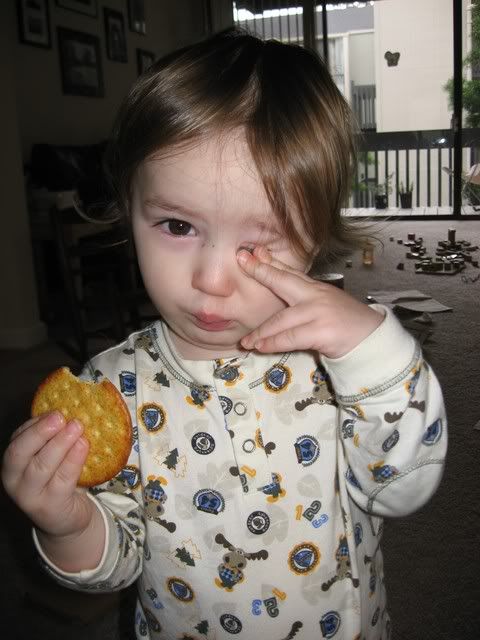 This is the only bite of this cracker he took.